Used by thousands of merchants all over the world; CartManager has been providing easy to use, secure, online shopping cart solutions since 1998. To read testimonials from some of our many satisfied merchants or to view web sites currently using CartManager, go to our featured sites. You can learn more about CartManager's many features from our features list.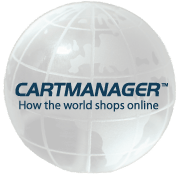 CartManager shopping cart features include:
Unlimited Products and Orders
Secure SSL Shopping Cart
Free Real-Time Shipping
eBay compatible application
Compatible with QuickBooks
Multi-Language Capable
Electronic Softgood Download
Inventory Tracking
Coupon and Special Offers Discounts
Customer Statistics

Try our full-featured, "user friendly" shopping cart demo, or check out our example store to see the shopping cart in action.






(You may convert your free trial account to a permanent account at any time)
Testimonials
THANK YOU!!! for making your site EASY to use. I've been struggling with getting a shopping cart on a site. I've tried 4 or 5 and got totally befuddled with all of them. My client put me on to this cart and it's sooooo easy compared to all the others. You've done a great job.


- Jody H.

Just wanted to let you know that I am very happy with your program, obviously, since I am recommending it to others. It is better than using Yahoo! Shopping Cart, and easier, more custom suited for building your own website. Also better than using a store program with eBay.


- Lynda H.